Though it is rumored that she is the product of a night of unrestrained indulgence between Peggy Lee,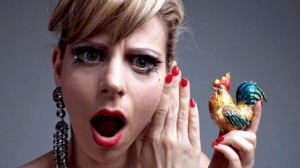 Mel Brooks, Nina Simone, Dean Martin and Janis Joplin the truth is Lady Rizo was raised by theatrical gypsies with the highest show business ethics. When she almost looked of age she rebelled against the comforting, unscrubbed, rustic life and set out for a world of harsh metropolitan sophisticates.
The 'Cabaret Superstar' (New York Magazine), comedienne and chanteuse revives the genre by creating vintage arrangements & theatrical explorations of pop songs from every decade. Lady Rizo (nee Amelia Zirin-Brown) co-created the cult caburlesque spectacular Lady Rizo & the Assettes in 2005.
In January 2010, she won her first Grammy on a duet with acclaimed cellist Yo-Yo Ma that was released on a Holiday album featuring Diana Krall, James Taylor and Alison Krauss among others. She also sings and records with multi-platnum recording artist Moby and was nominated for an MVPA for the choreography the video for the single New York, New York featuring Debbie Harry.
She is the Mistress of Ceremonies for current hotspot The Darby, a decadent modern supperclub in the West Village. In the same location as the legendary nightclub Nell's, she performs her pop arrangements there nightly to entertain music luminaries like Prince, Ashford and Simpson, Beyonce & Jay-Z.
A proud recipient of the New York Foundation for the Arts fellowship in 2010, she has performed her sold out show monthly at Joe's Pub since 2009 and has been commissioned for a full length piece by the Public Theater that will premiere as part of the New York Voices series in November 2011.
For Lady Rizo, Yat co-managed her tour across the Bay Area (TX) and with the Theatro ZanZinni, with her manager Ben Yonas of Yonas Media. He also provided assistance to her social media accounts (AllMusic, Spotify, and so on).